ВАРФЕЙС – WARFACE
04 Mar 2019
Soldiers!
This pistol is as reliable as any secondary weapon should be, except that it's capable of racking up damage like a primary – and at the same speed!
---
INSPIRATION
The gun is based on the CZ-75 pistol designed by the Koucky brothers and manufactured by Česká zbrojovka Uherský Brod (Czech Arms Factory). This weapon has an unusual history – due to patenting issues, the handgun was cloned by various companies worldwide, thus earning it the nickname of the world's most copied pistol (second to 1911 only).
Its unique design – situating the slide to ride inside the frame rails – lowered the bore of the handgun, translating it into superior accuracy.
---
IN WARFACE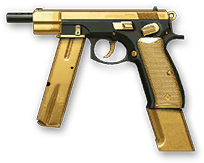 CZ 75-Auto is the modern, fully automatic weapon capable of delivering excellent damage a shot at a rate of fire truly crazy for a handgun. Owing to the design, the sidearm barely has any recoil and provides remarkable accuracy both when aimed and 'sprayed' – large magazine size lets you do that. CZ 75-Auto can be additionally outfitted with muzzle attachments: suppressors and a flash guard.
---
ACHIEVEMENTS
Notable Czech

Kill 10 000 enemies with CZ 75-Auto or its gold version

Advanced Notable Czech

Kill 25 000 enemies with CZ 75-Auto or its gold version

Czech Armada

Kill 999 enemies with the Gold CZ 75-Auto
---
Note it down!